This fellow's practically gone through the proverbial hell and high water of Malaysia's politics. Err … we can probably call it, 'politicks!' Some call him, 'El Chameleon'. He who is a master in evolving his character to suit his attentive audience. Here is a video compiled by his detractors.
Ismail Sabri can't do that. Neither can Muhyiddin. These two are, old school. Ismail Sabri was lucky to have a fashion designer as his son-in-law, hence he sported new looks at his political events. Muhyiddin is the Malay traditionalist. Oldtimers and conservatives, like me feel comfortable with him. But we saw how sluggish both were at the helm.
That is the reason why Anwar is being welcomed by most of the masses, especially by the Non Bumiputera's. He sings their tune. He is their Pied Piper. He can even break into an impromptu song and dance act. Try imagining Ismail Sabri or Muhyiddin doing so? Hehehehe, fat chance! 
Moving on, there are those who say, why dwell on the past? Give Anwar a chance to prove himself. Let us see whether he can clean up the government of Malaysia? 
When Pakatan Harapan managed to win the 2018 GE 14, the chosen Prime Minister was Tun Dr. Mahathir Mohamad who was supposed to rule for the first 2 years, then step down and make way for Anwar Ibrahim as agreed between the then Opposition pact.
Mahathir did not foresee the internal political conspiracy slowly being hatched by the likes of Muhyiddin Yassin, Azmin Ali and Hadi Awang. All from different political parties but who came together to seize power by their Sheraton Move.
Before the tabling of the Anti-Political Party Jumping Act or The Constitution (Amendment) Act (N0.3) 2022 at the Dewan Rakyat [Malaysian Parliament] which was approved unanimously by all the MPs, this political treachery was common, and it caused the ruling governments to fall because of the switching of alliances and loss of the majority support.
Mahathir felt that he had no choice but to tender his letter of resignation to the King because he no longer had the full support of the MPs to remain as the interim 7th PM of the Pakatan Harapan Government. 
We all know that Mahathir was trapped in a situation where he was being forced to be in a precarious position where Pakatan Harapan would have to work with kleptocrats in UMNO and others who have court cases against them. He chose to resign and extricate himself from the political turmoil cropping up caused by the wheeling and dealing, unscrupulous politicians.
Yet, the entire world knows that Mahathir was also not that keen to have Anwar become the PM and his resignation could also be regarded as throwing a spanner into Anwar's mission to become the Prime Minister of Malaysia!
All that is now part of Malaysia's history and the subsequent taking of power by Bersatu's Muhyiddin Yassin who became the 8th Prime Minister. Muhyiddin's term as the PM was not smooth sailing either as the Covid 19 pandemic swept through the world and the politicians were also not loyal to the new coalition government.
Muhyiddin couldn't control what was happening as the Covid 19 pandemic took more lives and his Movement Control Orders led to uprisings by those who had lost their jobs, lost family members to the virus and economy were suffering seriously. Businesses were closing and leading to dissatisfaction in the entire country. He was being blamed for all that even without being the cause for the outbreak. You can say that he was being turned into a scapegoat for all the miseries taking place. He could only last for 17 months as the 8th PM.
Ismail Sabri, Vice President of UMNO was chosen to succeed Muhyiddin as the 9th Prime Minister as a result of all the switching of alliances amongst the fickle minded Members of the Malaysian Parliament. 
Ismail Sabri did not have a smooth premiership because his UMNO party president was facing so many court cases and constantly pressuring him to dissolve the Malaysian Parliament to force the 15th Malaysian General Elections.
Zahid was panicking because his former UMNO President, Dato Seri Najib Razak was found guilty of corruption and sentenced to 12 years imprisonment. His speech at the MIC General Assembly revealed his fears. Such constant pressure turned Ismail Sabri into a very miserable man, and we could see his weariness on his face.
Even at the UMNO General Assembly, Zahid expressed his wish to have the 15th GE held as soon as possible to avoid what he termed as 'political persecution' by the authorities.
Just imagine the tremendous pressures that Ismail Sabri was facing from all these theatrics and goading's from the UMNO President. 
We were forced to vote in the 15th GE and saw what took place. 
Anwar Ibrahim has come full circle and is now the 10th Malaysian Prime Minister after being appointed bv the Yang Di-Pertuan Agong, Supreme King of Malaysia.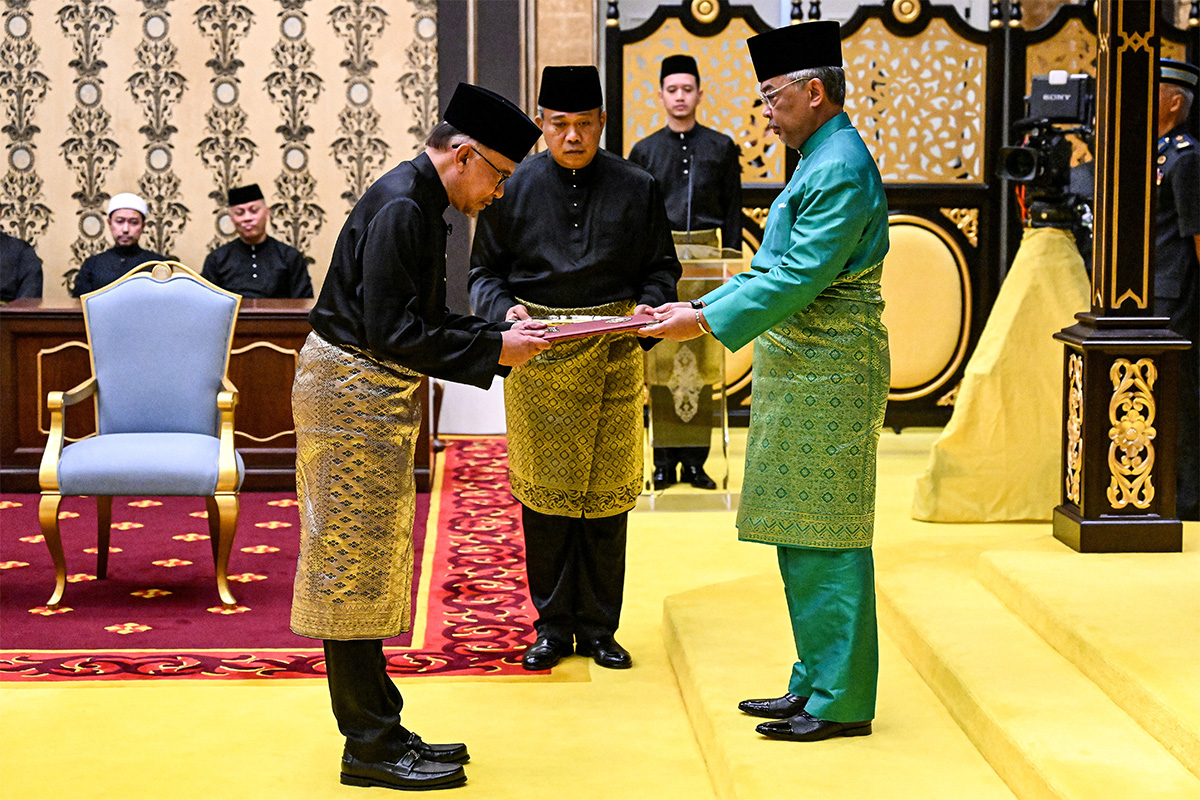 Anwar has gone through his own gauntlet of fire which lasted for a lengthy period of 24 years. 
Malaysians are now waiting to see whether he can really deliver what he has been promising. It's not going to be a walk in the park as he must carefully select his cabinet ministers from a pool of politicians who all have their own skeletons in their closet.
Corruption is said to be so steeped in the Malaysian Government and Civil Service that it would be a miracle if Anwar could really pull it off. To redeem Malaysia's tainted and blemished image in the eyes of the world. Our Malaysian Ringgit has fallen so low that it was RM4.70 to 1 US Dollar before Anwar's appointment. It has now risen to be RM4.50 but there is still so much to be done to put Malaysia back on track to once again be a rising Asian Tiger as far as its economy and development progress is concerned.
We can just wait and see what happens next!
Hits: 104