Life
With a cry we are born into this life,
From being a child you are now my wife,
Through the years together we strive,
With our love against all odds we'll thrive..


Being together through all the violent storms
At time's we find it so hard to conform,
When others dictate to us on how to live,
They're always taking..we're prone to give..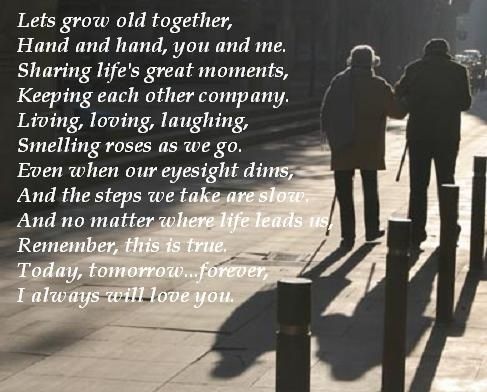 No matter how much we've to endure,
My darling wife ,don't fret there'll be a cure,
What goes around comes around,
Do not despair ..stand your ground


Think positive,always feel good,
Never ever be like deadwood,
Life is short so make it sweet,
In paradise..God willing,we shall meet.


Copyright ©2006 Zainol Abideen



Our hair might turn grey and fall away,
But the love we have will never sway.




Our joints may ache and not be as strong as it used to be,
But our bonds of love will forever be sealed eternally.




As we live blissfully together through all these years,
We have come to know that together we face no fears.




Thank you my darling for being my wonderful wife,
Without you by my side, I'd have given up on this life!




Happy 15th blissful Wedding Anniversary Sweetheart!



Hits: 0