Tun Dr.Mahathir Mohamad is not someone who falls into the category of being 'predictable'. You never know what he's going to do? He is this nation's most exemplary leader and respected the whole world over.


When he was in power as Malaysia's 4th and longest ruling Prime Minister, none could take away his thunder and many of his detractors simply dropped away like the proverbial moths before the bright burning flame.
He stepped down from power after 22 long years of helming this once progressive and dynamic nation. Our Malaysian Ringgit was quite stable and strong back then in 2003 and we were proud to identify ourselves as Malaysians to anyone who asked?
We were left to the care of Abdullah Badawi who was not known to be firm or stern all throughout his political career. Abdullah Badawi let loose all the barriers and unlocked the safeguards that Mahathir had put in place to keep our nation in check.
The once weak DAP, mostly Chinese led opposition party grew into a formidable opponent to the BN and wrested power from the ill performing GERAKAN to become the State Government of Penang in 2008! Selangor fell to Anwar's PKR and Perak slipped into the PAS's pseudo government where DAP's Nga Kor Ming and Ngeh Koo Ham were the Silver State's puppet masters.
Mahathir could not just stand idly by and watch his hard fought achievements go down the drain. So, he nagged and yakked Abdullah Badawi's dismal leadership of the BN till the man had no choice but to call it quits halfway through his 2nd term as the beleaguered BN Chairman and handed over the reins to Najib Razak, whom Mahathir thought would fare better.
Well, as we all now know, that didn't go well as Tun Dr.Mahathir had wished for!
He fell for the proverbial delusion that someone who came across as Mr.Credible being the son of Tun Abdul Razak, Malaysia's 2nd Prime Minister and the one who readmitted Mahathir back into UMNO after the latter was expelled from the nation's ruling party by Tunku Abdul Rahman, would be as what he was! He screwed up again in his choice t lead us all.
Najib Tun Razak today has become Mahathir's worst nightmare and practically morphed into this behemoth standing accused of plundering our nation's coffers. Mahathir has practically run out of ideas and ways to dislodge Najib Razak from being Malaysia's incumbent Prime Minister and despite Tun Dr. Mahathir's endless huffing and puffing down Najib's neck, it's turned to be futile.
The disciple has turned recalcitrant beyond Mahathir's wildest imagination and fortified himself with his growing legion of apple polishers whom I have termed them to be Najib's Brasso Brigade! Najib Tun Razak's being so is widely attributed to the influence and dictates of his current wife, Rosmah Mansor.
Those who are Malaysians surely know about all these reports but then again we couldn't be bothered to waste our precious time on them as we are all worried about what's waiting in store for us when Mr.Pink Lips @ Najib eventually bids us adieu come 2018!
Reason being that we just can't trust anyone anymore. From both sides of the political lineup.
Anwar Ibrahim whom most of us Malaysians looked towards having him as our Prime Minister after Mahathir has been in the slammer on and off after being found guilty by the Malaysian Justice System first on abuse of official powers back then and recently on a sodomy charge!
Anwar Ibrahim was a shining star. He had the whole country enthralled by his gift of the gab and intelligence. He was a 'Jack of all trades and master of some'. He was Mahathir's hope and blue-eyed boy but was a tad too impatient to rule the roost and got caught in these sexual crimes they accused him of being guilty of.
Anwar and Mahathir were once the best of friends as far as political leaders and associates go by. Circumstances forced them apart and each found themselves on different paths. God knows what both of them really feel about each other now and we as third parties can only assume and imagine this and that about them.
Frankly speaking, our country today is seriously lacking dependable persons upon whom we can place our trusts in taking Malaysia out of the rut our country has fallen in. Malaysia was once labelled as being one of Asia's Up and Coming Dragon economies.
Not to say that Malaysia is a failed nation or what but the rising costs of living here and the general uncertainty of our future under God Knows who is going to call the shots come the 14th General Elections in 2018, it does add to our worries.
Mahathir came to show his support to Anwar Ibrahim's injunction against the National Security Council as a matter of principle. He is against the NSC as well and attended court today to prove his point.
Mahathir and Anwar are both against the NSC Bill for it gives the PM wide powers in ordering the enforcement of arresting anyone whom the NSC deem to be a danger towards the country!
On Thursday, December 3, 2015, The National Security Council Bill 2015 was passed in Parliament after a marathon six-hour proceeding.[4] The bill was passed quickly, taking two days to gain the majority vote, with 107 in favor and 74 against the bill.[5] Among the contents of the bill are:[4]
Clause 18 (1): PM has full discretion to decide where 'security area' is

Clause 18 (3) and (4): Initial declaration of 'security area' lasts for 6 months but may be renewed by PM indefinitely

Clause 22–30: security forces can arrest without warrant; stop and search; enter and search premise; take possession of any land, building or movable property.

Clause 37: All NSC's affairs are done is absolute secrecy

Clause 38: No action or lawsuit can be brought against the NSC
Unlike the Internal Security Act 1960 which requires the discretion of the Yang di-Pertuan Agong, the NSC bill is under the direct authority of the Prime Minister.[6] Further, while the Prime Minister has to seek advice from the 8-man security council, he can choose to ignore the advice.[7] The Malaysian Bar called the bill a "lurch towards an authoritarian government".[8]
So for anyone jumping to conclusions that Mahathir and Anwar are now back to being buddies and brothers in arms, that's plain foolishness on those concluder's part.
Watch the media coverage of Tun's historic visit to show support for Anwar's injunction to stop the implementation of the NSC:
What we can deduce from the video recording is that Tun Dr.Mahathir turned up in court to show support for the legal action taken by Dato Seri Anwar Ibrahim to stop the implementation of a wide ranging law where the incumbent Malaysian Prime Minister Dato Seri Najib Razak can at his sole discretion just order the arrest of anyone he deems to be a security risk to the country!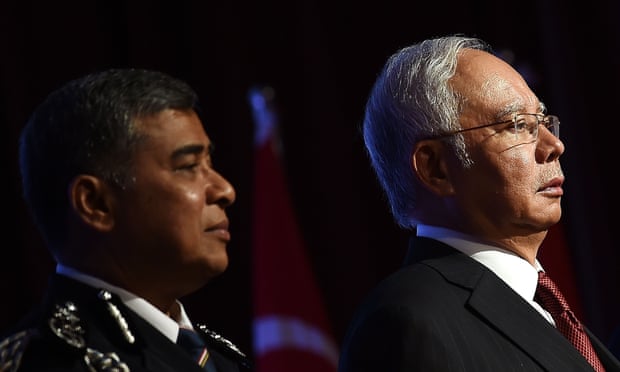 Malaysian IGP Tan Sri Khalid Abu Bakar (L) and Malaysian PM Datuk Seri Najib Tun Razak
Do Malaysians want to give such wide ranging supreme powers to Najib Razak?
Hits: 0