Indian Tamil Nadu Chief Minister, 66 years old
Jayalalitha Jayaram
, has been found guilty of Corruption and Embezzlement of Disproportionate Wealth!
She has created dubious history by becoming the first ever Tamil Nadu Chief Minister to be disqualified as a Member of the Lower Assembly whilst in office!
She was tried and found guilty in the Karnataka Court and is now in jail on a 4 years jail term!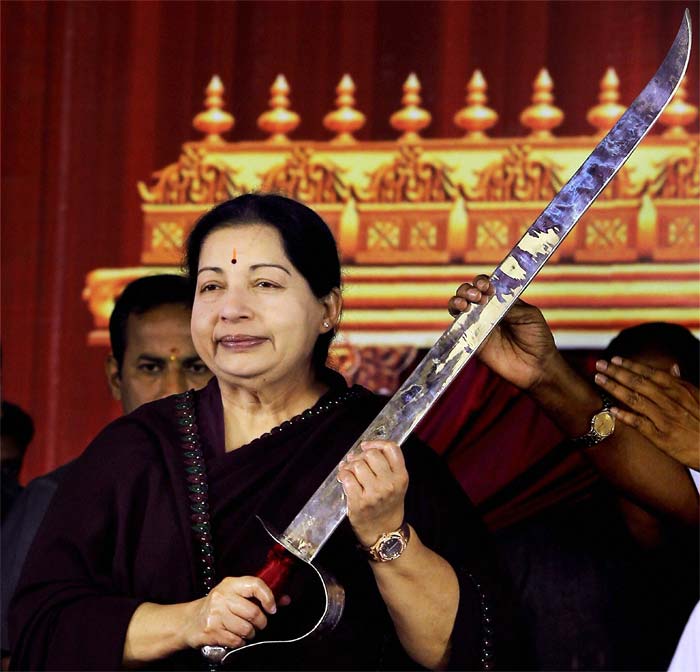 The now jailed Jayalalitha was earning a token salary of just 1 Indian Rupee per month!
Her wealth which was estimated to be Rs.3 Crore when she first took office as the Tamil Nadu Chief Minister ballooned to Rs.66 Crore and now her entire ill gained wealth which included tea estates, real estate in the form of bungalows, complexes,28 kilos of gold jewelery, more than 12000 silk sarees, suitcases full of Indian Rupees stockpiled like those you see in Tamil movies and still being audited forms of wealth that boggles the mind!
She has also been
fined Rs 100 Crores
and
barred from politics for 10 years!
1 crore is 10,000,000 rupees.
How much is Rs 100 Crore in US Dollars? I used this converter and got the following answer =
10,000,000,000.00

INR

=
162,231,100.59

USD
That's USD$162 Million, 231,100 dollars! She must have been stashing away all her ill gotten wealth in so many places that it will take ages for the Indian Authorities to trace and confiscate!
Talk about Tamil movies come alive!
Meanwhile, her party supporters are running amok in Tamil Nadu and protesting in the usual manners which includes rolling on the roads, shutting down businesses, etc.
Which brings me to think of the PKR de facto Chief Anwar Ibrahim who was said to be earning a token salary of RM1.00 per month as the Selangor State Economic Adviser during former Menteri Besar Tan Sri Khalid Ibrahim's administration!
Wonder what our Malaysian Auditor-General's Office will find when the fellow gets investigated?
Will they find similar stashes of cash and other forms of wealth?
Wallahu'alam.
Hits: 0