Assalamualaikum Warahmatullahi Wabarakatuh.
It's that time of the year when Muslims throng to the shopping malls in the daytime and congregate at the masjids at night performing our amals and ibadah.
Naturally, it is the children who are most excited because their parents or guardians will take them shopping for new clothes and shoes to be worn on Aidilfitri @ Eid.
Today, it was our turn to go shop for our needs.
Traffic was quite heavy in the city centre and we were practically inching our way towards Sogo but as the carparks were full, we had no choice but to look for alternative parking.
Luckily I saw a sign showing a RM4 per entry at a carpark besides Quality Hotel. It was at Wisma Bumi Raya and I promptly drove in, paid the fees and secured a parking lot. Alhamdulillah!
We walked across the road and entered the MARA HQ Building. There were a lot of festive items being sold at the stalls at the ground floor but most were the usual run of the mill types and the prices weren't that appealing to us.
I saw a Zakat Fitrah payment booth set up there and promptly settled my obligations for this Ramadan.
After settling our Zakat Fitrah, we made our way through the building and headed towards Sogo.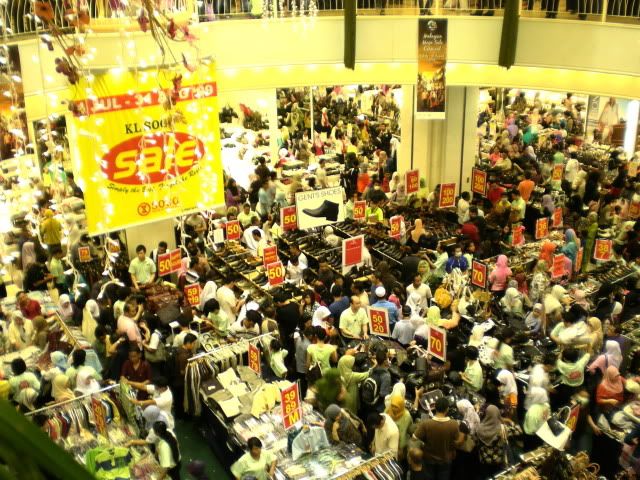 It was jam packed with shoppers thronging the departmental store on most of the floors. Good to see the economy doing well and trade on the way up.

Sogo KL is a good place to shop. The selections are better than most other departmental stores or shopping malls. Only thing is that you have to deal with the teeming crowd who can be so crazy in grabbing whatever it is that their eyes see and their hearts say 'GO!'.

I recall a movie called 'Shopaholic' where even the mannequins come alive and tempt this office worker turned financial magazine journalist to go overboard with her credit card and ends up being chased by the credit recovery officer of a bank! Hilarious!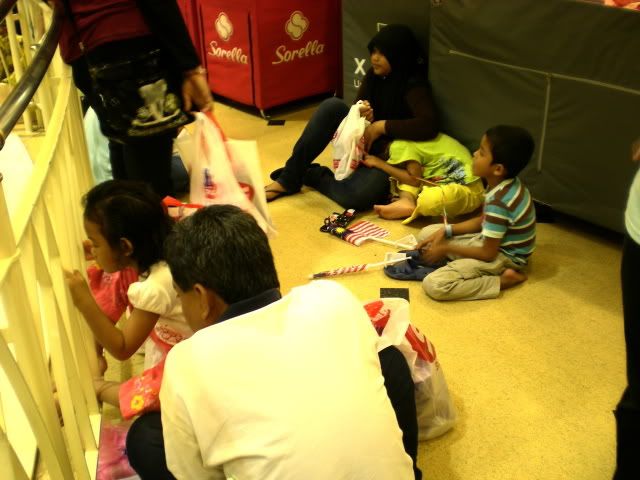 Tired kids resting while watching Sogo's shopaholics run wild below! That includes a bushed out dad who might be keeping an eye on his beloved joining in the frenzy of shoppers grabbing the bargain items with discounts as high as 70% on handbags or shoes. Must be tiring for him just watching all the action! I saw many Non Muslims not wasting their time in joining in the fun! 😛
Shopaholics galore!
When shopping for my new leather shoes at Sogo, I came across this very beautiful baby girl. Looking so cute, she was the centre of attraction there. Here is her photo. May Allah bless her with long life and the best of this duniya and in the hereafter. Ameen.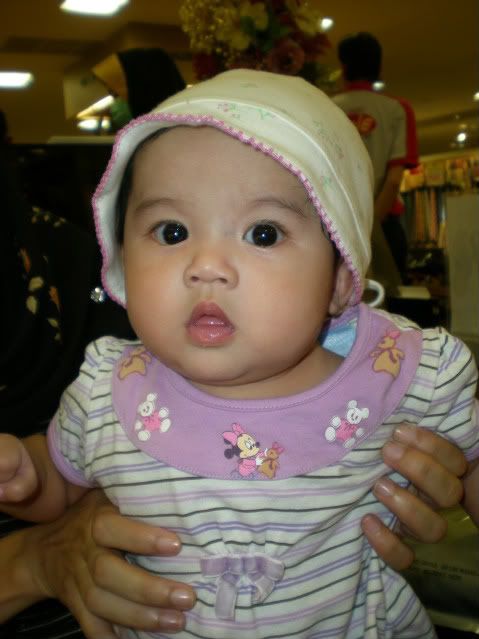 After making our purchases, we proceeded to scout for my wife's needs at Semua House. The shopping centre here is quite established and was also jampacked with people milling about and a deejay adding to the din of the trade going on.
I came across several cute babies and couldn't resist taking photographs of them after getting permission of their very proud parents. 🙂
Here are some of them.

What a charming poser, eh? She is just so beautiful. Masya Allah!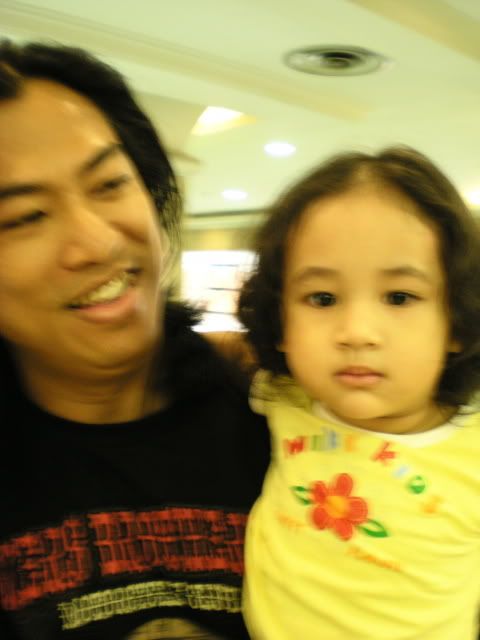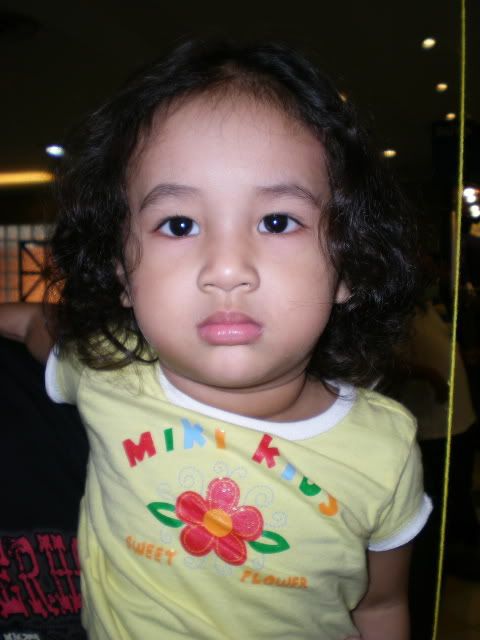 After having bought a few blouses for my missus, we then made our way to Jalan Masjid India where I came upon this mannequin in full Baju Melayu, songkok and sunglasses to boot looking like one of those Bollywood filmstars! Hehehehe…
Wonder if Datuk Shah Rukh Khan will be celebrating Eid in Melaka this year?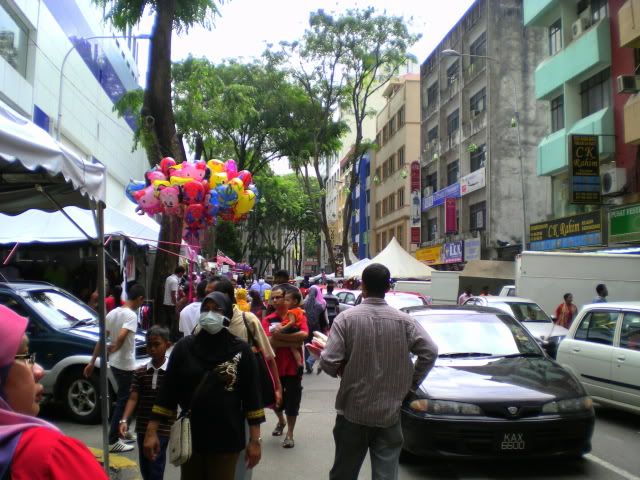 I've got more pictures of the shopping spree taking place over there in KL's major shopaholic's zone but will only be publishing them in the following articles for I need to get ready for we are travelling to Kuantan today to attend a family Ramadhan gathering at my wife's kampong there.
May Allah Subhanahu Wa Ta'ala bless us all. Ameen.
Wassalamualaikum Warahmatullahi Wabarakatuh.
Hits: 0