Assalamualaikum Warahmatullahi Wabarakatuh.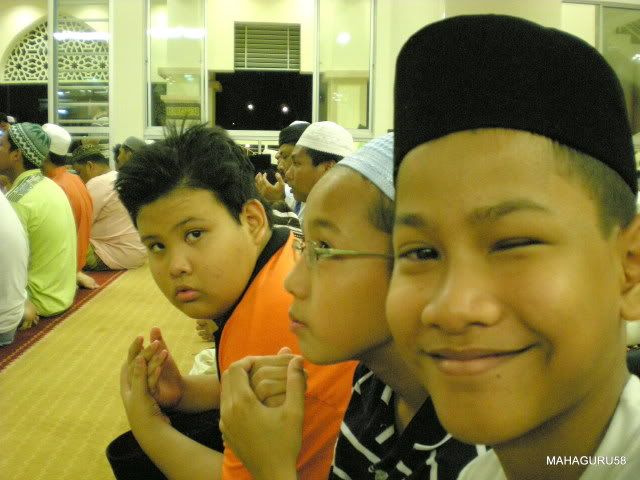 For the first time, Muslims living in Bandar Sri Permaisuri, Cheras, KL, got to perform the Taraweh Sunnat prayers at Masjid Al Najihin.
Here are some photos which I took when I joined the congregational prayers there recently.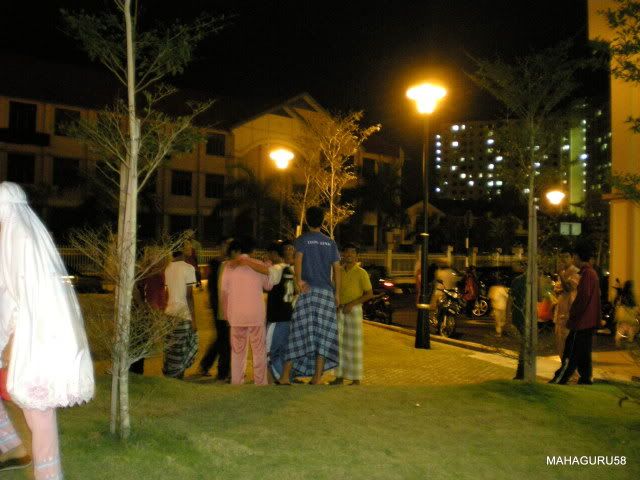 As usual, it was the young children and early teenagers who were so excited being there in the holy month of Ramadan and their exuberance was really showing as they ran around playing with each other after the prayers.
The masjid is strategically located at the junction of Jalan Tasik Permaisuri and the road heading towards Salak Selatan in Bandar Sri Permaisuri.
It is next to the Sekolah Menengah Kebangsaan Sri Tasik and also besides the primary school there as well, Sekolah Rendah Kebangsaan Sri Tasik. Residents of all the condominiums and apartments thronged to the new masjid and really enlivened the masjid during this holy month.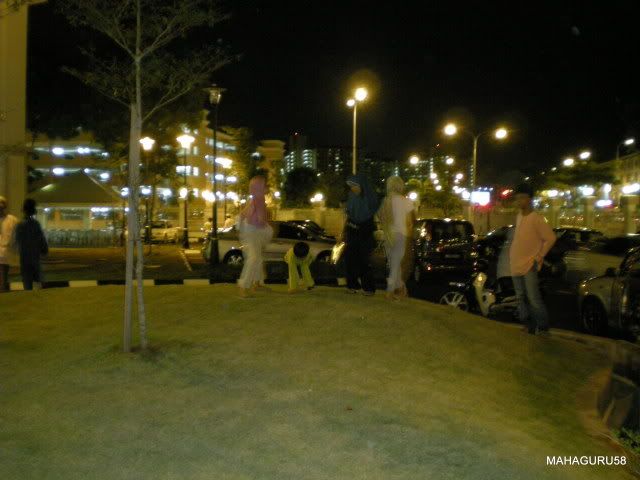 I managed to coax this young boy to pose for me and he did so with a cherubic smile on his face after getting encouragement from his proud family members.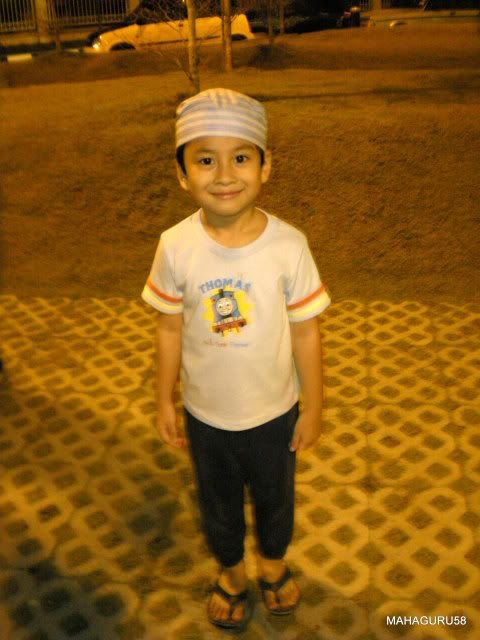 There were many other kids as well who were running about without a care or worry in their hearts!
May Allah bless them!
It's good to see kids enjoying themselves like these but I really hope that during prayer time, they would try their level best not to create a scene or what but kids being kids will never change….
It was hard to keep being focused on our prayers when there was always these shrill high pitched voices beating the Imam to reciting the Al Fatihah!!!
I had a really hard time in trying not to react when there was one very loud kid uttering 'Ameen' well before the rest of the congregation or even the Imam did!!! 😛
Talk about being so eager beaver at his age!!!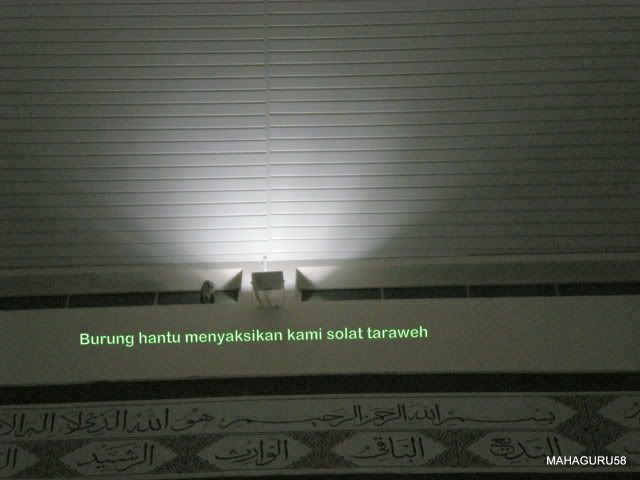 One highlight of the night was realizing that there was this earnest looking owl monitoring us in prayer from high above just besides the spotlights at the base of the roof structure.
It was really looking on in interest watching the congregation performing our prayers. Really extraordinary! It's not always that one gets watched by an owl when in prayer. Young boys were quite excited and fascinated at the same time looking at the owl.
My Nikon S200 compact digital camera could not zoom in clearly to get a better shot of the owl and this is the best that I could muster being about at least 50 or 60 metres away from the bird.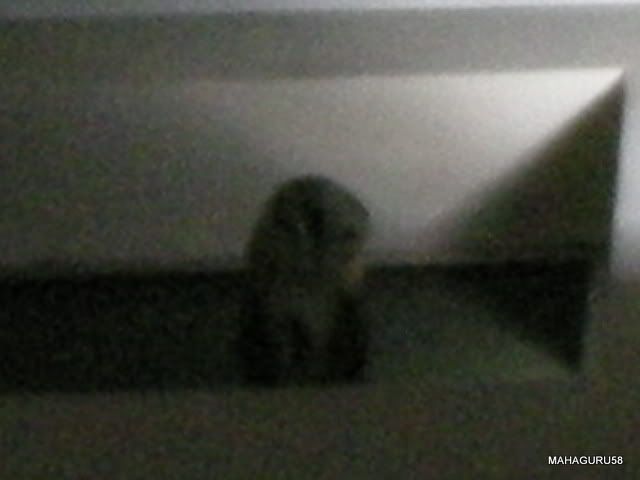 The owl added a special rush to the congregation that night and many of the kids were chattering excitedly about it's presence after the prayers outside the masjid.
This girl was dressed in her prayer attire @ the telekong and was seated posing prettily on the manicured carpet grass and I could not help but snap a picture of her after getting her permission. 🙂

She later posed for a group photo with her friends and was so excited at becoming the centre of attraction. Hehehehehe… So did this other group of happy children posing freestyle!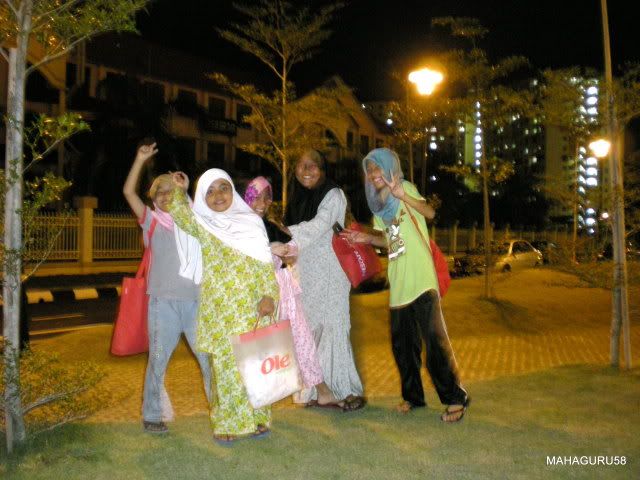 I wish all Muslims reading this to try our level best to spring clean our souls and seek Allah's Mercy and His Forgiveness in our month long period of devotion and repentance for all the mistakes that we have done knowingly or otherwise.
Muslim bloggers would do best not to engage in any untoward form of behavior towards each other in this month and from then onwards. Ramadan is our holiest of months.
Surely Muslims who happen to be bloggers have not forgotten about the prohibition by the Blessed Prophet Muhammad Sallalahu Alaihi Wassallam against those of us who are fasting to avoid strife and ill will in this blessed month?
We ought not get carried away with our political and ideological differences to such an extent that being in Ramadan sees us not be able to put aside our cyberwars and focus on our amals and ibadah!
What difference is there for us if Ramadan fails to make us realize that here we are so blessed to be in this holy month of forgiveness?
Remember. There are those who have just passed away, not alive anymore with us to celebrate this bountiful month of blessings and forgiveness of Allah!
I remember Allahyarham Ustaz Mohamad Asri Ibrahim, the leader of Rabbani who just passed away recently. He was a gem of a Muslim. He's no more with us. The nation has lost one of its glorious son's.
Yet here we are, still some engaged in petty squabbles in the blogosphere, despite the prevalence of Ramadan al Mubarak???
C'mon dear Ikhwanul Muslimin na wal Muslimat! Ceasefire! Please……
Write if we must but please do so for the sake of upholding the truth in the name of Ar Rahman.
Insya Allah, our efforts will do us good in the hereafter or we shall suffer the consequences later on.
May Allah bless and purify us all. Ameen Ya Rabbal Alameen.
Have a blessed Ramadan, dear Muslims. 🙂
Hits: 0