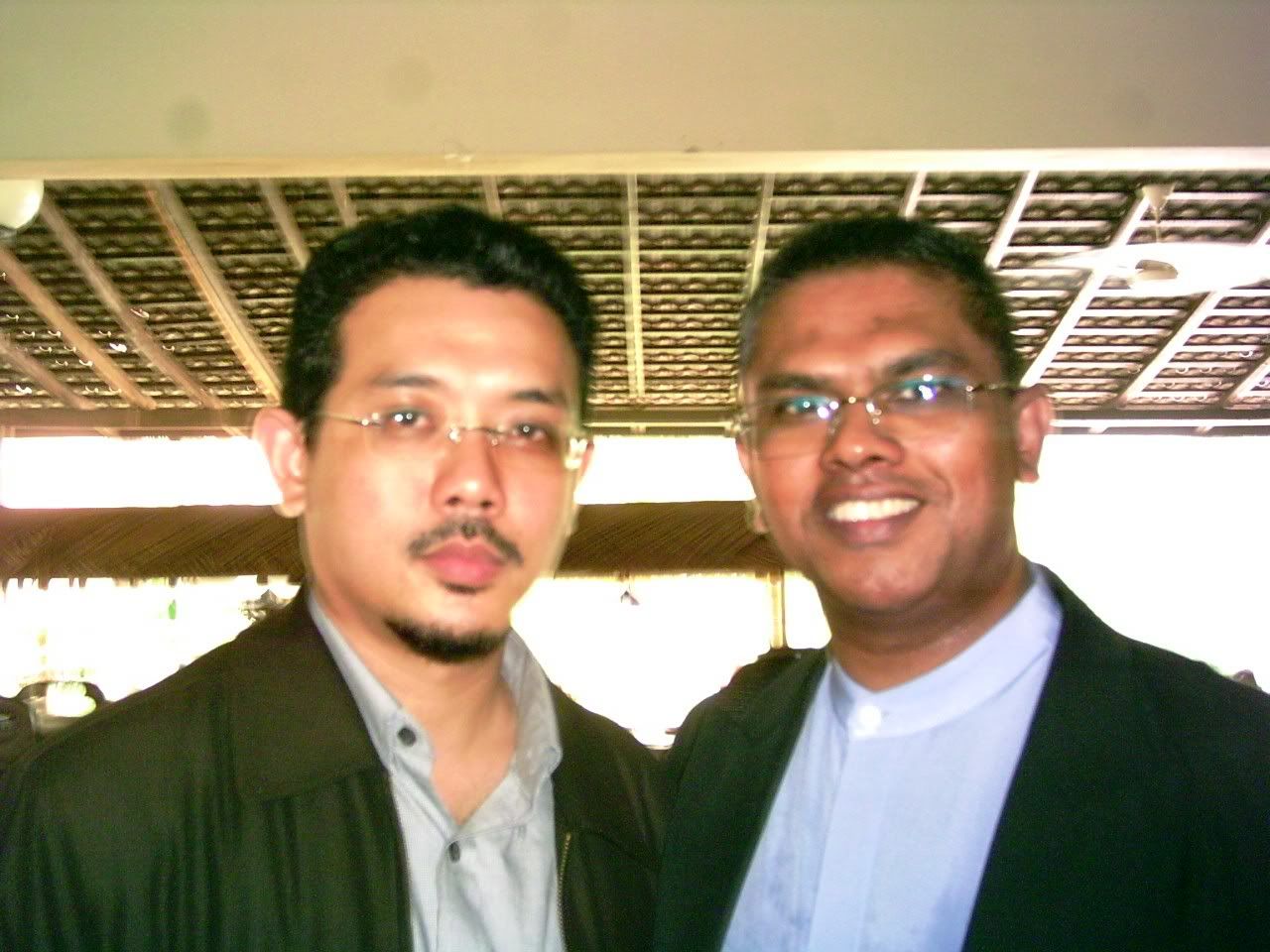 The young ABIM President Yusri Mohamad was there at the Dialogue session organised by Malaysia Today.Net and NGO's for Tun Dr.Mahathir this morning at the Kelab Century Paradise, Taman Melawati, Hulu Kelang, Selangor.
I spoke with him and shared my concerns about the growing social problems amongst the Ummah.
He is a Lecturer in Law and heading the Angkatan Belia Islam Malaysia, our nation's foremost Muslim Youth Organisation.
ABIM is the organisation where former Deputy Prime Minister of Malaysia, Datuk Seri Anwar Ibrahim made his mark in the arena of Islamic Youth activities and eventually caught the eye of Tun Dr.Mahathir , the UMNO President and Premier.
Rather than let the charismatic young Anwar Ibrahim join PAS, Tun Dr.Mahathir successfully influenced DSAI to join him in UMNO and groomed the influential youth leader to be his successor. History records the meteoric rise of DSAI and his subsequent fall from power to being a reformist leader with an agenda to climb up the rungs of political aspirations in this nation!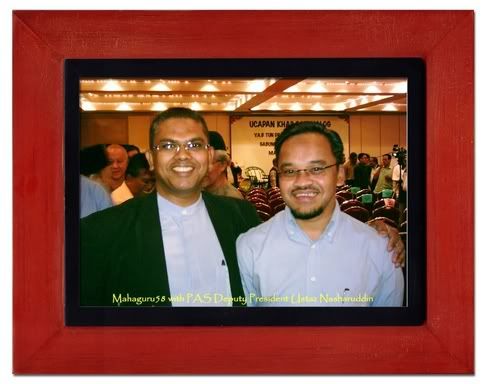 This is my photo with the Deputy President of PAS, the Islamic Party of Malaysia.
Ustaz Nasharuddin Mat Isa is the symbol of PAS's new leadership who are willing to change for the better as he has shown by showing up with his colleagues at an event of their former nemesis and adversary in the form of Tun Dr.Mahathir, UMNO's ex President and former Premier.
That speaks well for PAS to want to shed their ego's and come listen to what the 'enemy' has to say about affairs concerning the nation.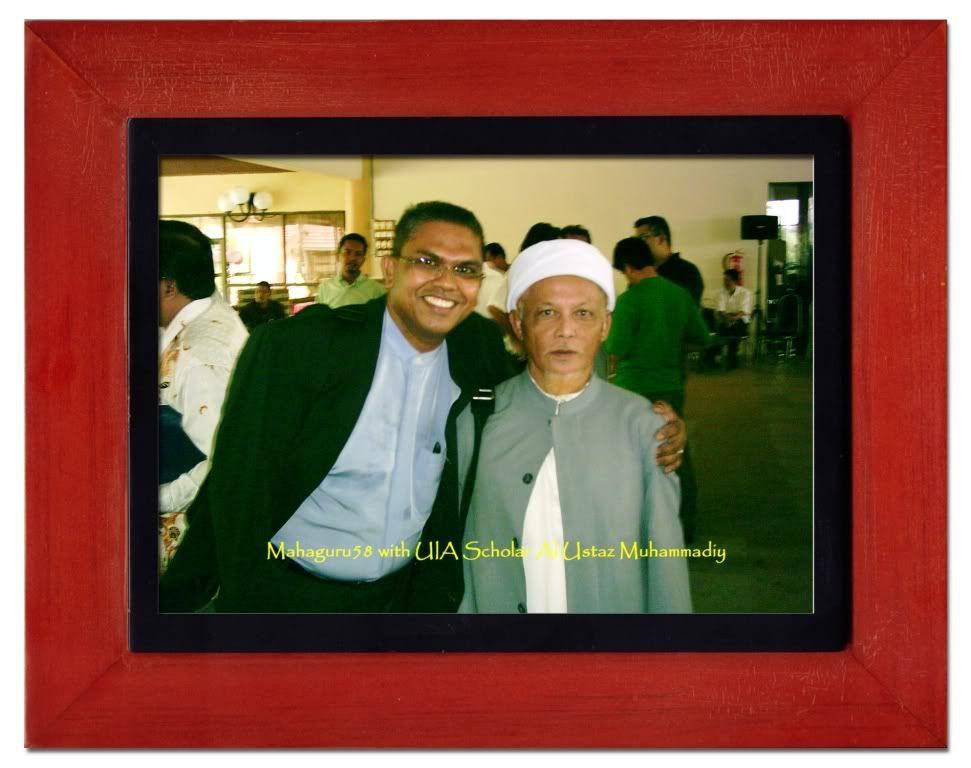 This is my photo taken with a renowned Ulamak of Malaysia, the respected Islamic Scholar Al-Ustaz Muhammad 'Uthman El-Muhammady, a 'Tokoh Ma'al Hijrah', and a Very Distinguished Academic Fellow of the International Institute of Islamic Thought and Civilisation (ISTAC) based in the International Islamic University of Malaysia (IIUM).
It's an honour for me to be in the company of such a distinguished scholar. May Allah SWT bless him and grant him the best of health, 'ilm and wealth. Amin ya Rabbal Alameen.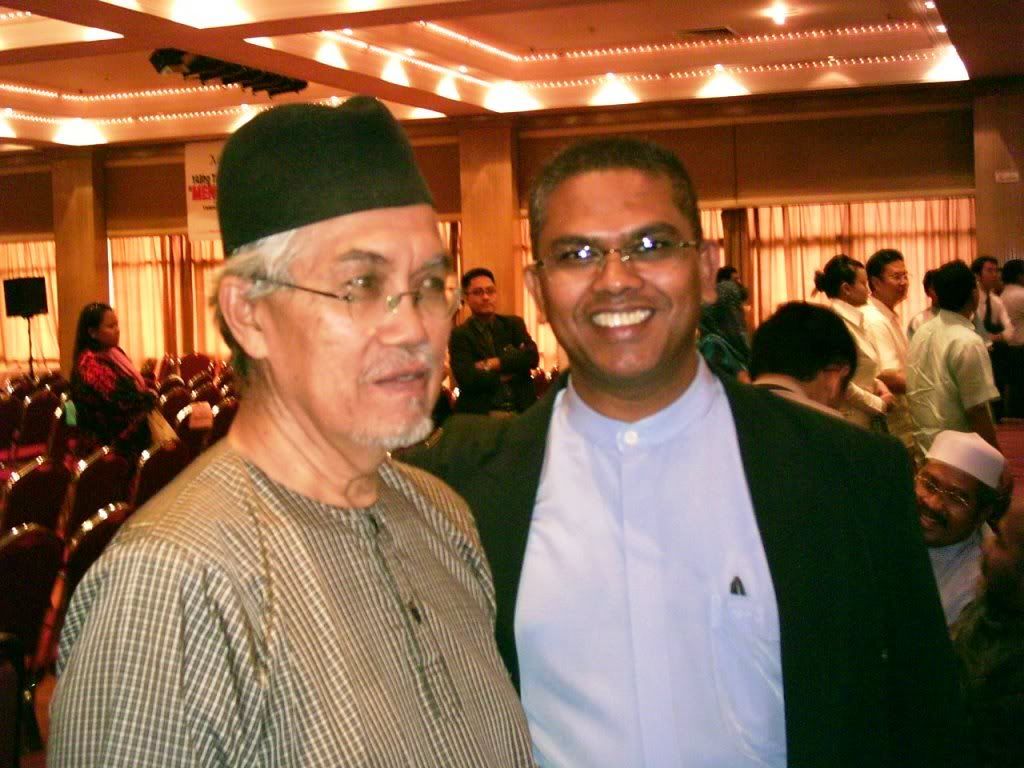 This is myself recording a photographic moment with the well known writer in Harakah, PAS's official newspaper, Mr.Subky Latif.
He has been writing a column in Harakah known as 'Min Aina Ila Aina'. I used to read Harakah before when I was living in Penang and following his writings.
After a while , one tends to get sick of reading just 'bad news' from a newspaper which neglects to really portray the true image of the Islamic advocacy of inviting to the truth and balanced reporting of events and circumstances that take place in our nation.
So, I stopped reading Harakah and just browse the online edition if I feel like it. The writers need to be fair when reporting or writing about the true picture of life here.
Subky Latif is a fair viewed person and his writings are alright. I wish him well.
Hits: 0